So, my our fellow
DIYScene
team member, Heather, from
Self_Inflicted_

DIY
started a new venture this winter, with her new shop,
Serenity Soap N Shower
. So of course, I had to weasel my way over there to grab some of her products to review for the blog, because I am ALWAYS up for a new shop!
So I ordered 2 items, the
Body Mist
in Vanilla Bean, and the
Oatmeal Soap
in Vanilla bean. It came VERY quickly, and packaged well in a priority package! She even send some yummy extras for me to try (and blog about, since I WARNED HER!
LOL
!). I got some
bath salts
in Fudge Brownie, some
bath melts
in
LoveSpell
,
bath bombs
in
cinnabun
,
exfoliating mini soaps
in vanilla cupcake WITH blueberry seeds in them, and some
mini vanilla bean
skull soaps!
So...where do I begin. First off, let me tell you this. My son galloped into the room within SECONDS of me unwrapping all of the goodies, sniffing like a hound dog. Then he INSISTED to be the first person to use the stuff. Now mind you, this was at 3 in the afternoon on a Saturday! So of course, being the boy mom that I am, THRILLED that my stinky son wants to actually BATHE, I said yes. Since then, he has gone through almost all of the bath bombs, salts, and melts. He also just had me order more soap! I am amazed! Astonished! SHOCKED!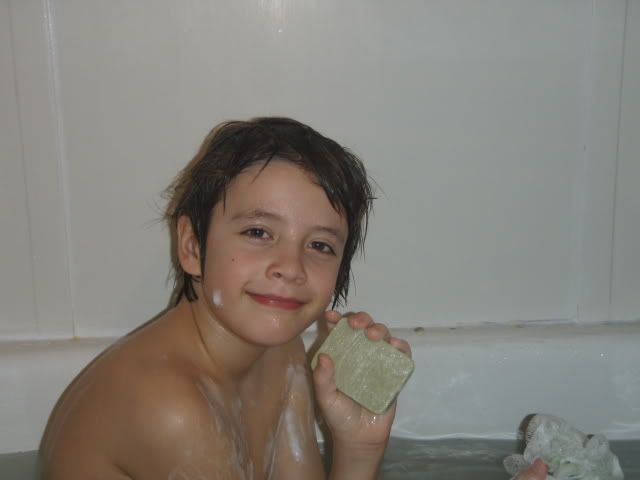 So the next day, after he had taken 2 baths, one with the bombs and Oatmeal Soap, and one with the salt soak and the oatmeal soap, I finally got my turn. That morning, I used the oatmeal soap for my shower. I was a bit concerned about the oatmeal, because it felt really grainy in my hand, but hear me out. Have you ever gotten a bar of soap that says it "gently exfoliates" and then it
proceeds
to sandpaper your skin off until you feel like screaming? Yep, we have all been there. But not with this soap! After I got done bathing, my skin felt softer then it has in a very long time, and I SMELLED good! The smell stayed with me, but it was not
overpowering
, it was gentle. I loved it! So Then I spritzed some of my body spray on, and was on my way! The spray was the same thing! Not overpowering, but light, leaving a sweet scent in the air! I loved it!
Now, since my son was taking a nightly bath, and all seemed good in the house, I finally decided to cave. I DETEST taking baths. I think they are weird. Give me a shower any day of the week, and I am good, but NO THANK YOU baths!
Ick
. The thought makes me shiver. But I decided, well, I have to review this stuff, and I can't base it all on an 8 year old, so why not bite the bullet? Plus, being 8 1/2 months pregnant, my doctor told me that
soaking
would help with my swelling, and help my skin. So I ran some hot water, melted some of my bath melts in there, and climbed in! At first, it looked like there was oily stuff in the bath, and I COULD NOT figure it out. But it smelled so good, and my legs felt relaxed, so I settled in. Well, let me just tell you, if there ever was a miracle sure for itchy
preggo
bellies....the bath melts are IT!!!! I climbed out feeling moisturized, and not at ALL greasy! It was amazing!
I am completely sold on
Serenity Soap N Shower
. Her products are well made, smell delicious, and are a good bang for the buck! Some shops charge you an arm and a leg for a bar of soap that will last a week TOPS in a shower, but this bar has lasted us well over 20 showers, and is not even 1/2 way gone! Highly
recommended
!